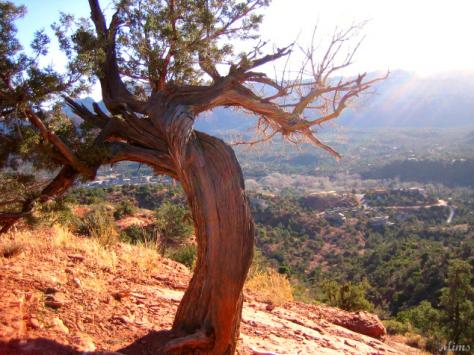 A friend and I were recently discussing what our possibilities for recreation are for a trip to Sedona, Arizona, this summer. When I said "vortexes," her response was "shouldn't it be vortices?" I had never heard that word, but told her I would investigate and use it as a blog topic. So here we are.
According to the Gregg Reference Manual nouns of a foreign origin retain their foreign plurals while some now have English plurals and others have two plurals—both foreign and English. How confusing is that? When there are two plural forms, one form may be preferred to the other and you are instructed to check your dictionary to be sure of the correct plural form.
I will not quote the entire section from Gregg, but it is interesting indeed. It is in the Tribute (11th) edition starting on page 204. Here are select entries:
WORDS ENDING IN US (the asterisk indicates the preferred form)
Singular
English Plural
Foreign Plural
cactus
cactuses
cacti*
focus
focuses*
foci
nucleus
nucleuses
nuclei*
stylus
styluses
styli*
thesaurus
thesauruses
thesauri*
WORDS ENDING IN A
Singular
English Plural
Foreign Plural
agenda
agendas
dogma
dogmas*
dogmata
formula
formulas*
formulae
vertebra
vertebras
vertebrae*
WORDS ENDING IN UM
Singular
English Plural
Foreign Plural
addendum
addenda
auditorium
auditoriums*
auditoria
consortium
consortiums*
consortia
curriculum vitae
curricula vitae
erratum
errata
maximum
maximums*
maxima
memorandum
memorandums*
memoranda
stadium
stadiums*
stadia
ultimatum
ultimatums*
ultimate
WORDS ENDING IN O
Singular
English Plural
Foreign Plural
crescendo
crescendos*
crescendo
tempo
tempos
tempi (in music)
WORDS ENDING IN ON
Singular
English Plural
Foreign Plural
criterion
criterions
criteria*
phenomenon
phenomenons
phenomena*
WORDS ENDING IN X
Singular
English Plural
Foreign Plural
appendix
appendixes*
appendices
crux
cruxes*
cruces
index
indexes (of books)
indices (math symbols)
matrix
matrixes
matrices*
vortex
vortexes
vortices*
WORDS ENDING IN IS
Singular
English Plural
Foreign Plural
analysis
analyses
crisis
crises
ellipsis
ellipses
parenthesis
parentheses
synopsis
synopses
WORDS ENDING IN EU OR EAU
Singular
English Plural
Foreign Plural
Adieu
adieus*
adieux
Bureau
bureaus*
bureaux
Plateau
plateaus*
plateaux
COMPOUND WORDS
Singular
English Plural
Foreign Plural
chaise longue
chaise longues*
chaises longues
hors d'oeuvre
hors d'ouevres*
hors d'oeuvre
maître d'
maître d's
So did you learn anything from this taste of English and foreign pluralization of foreign nouns? I sure did! I was wrong and will forevermore refer to Sedona's vortices correctly. Who knew?