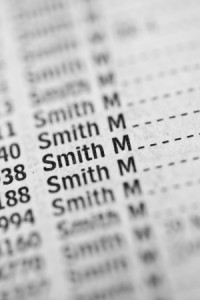 A reader asked me to address possessives with a proper name.  I mentioned it in an article early on (see Apostrophail!), but we will delve into it here.
The first rule–the most important thing to remember when working with surnames (a person's last name)–is do not change a person's name. You can't add an apostrophe before an "s" when the surname ends in "s." For instance, do not make the name "Andrews" possessive by putting the apostrophe between the "w" and the "s." That is changing the spelling of Andrews. A person's name is the most personal thing they have. Don't mess that up! So here are some tips for making surnames plural and possessive.
To make most surnames plural, you add an "s."
The Smiths went to the Halloween party dressed as dice.
That means more than one Smith went to the party. Where the surname ends in s, x, ch, sh, or z, you should add es to make the name plural.
The Lopezes have been married for 50 years.
However, if adding es makes the name hard to pronounce, just use the s.
The Hastings went to the park for a picnic. (In this case Hastingses would be difficult to pronounce, so Hastings is better.)
As for possessives, to make most surnames possessive, add an apostrophe and an "s."
Mr. Smith's car was repossessed.
For these surnames that are plural and possessive, make them plural by adding an "s" and then add an apostrophe to make them possessive.
The Smiths' car was parked illegally.
Where surnames end in "s," to make them possessive, pronounce the word. If you say the extra "s," you add apostrophe and "s."
Shirley Jones's son flunked algebra.
You would pronounce it "Joneses," so you add the apostrophe and "s." Where the surname ends in "s" and making it plural adds an extra syllable that makes it awkward to pronounce, add only the apostrophe.
Mr. Andrews' house was broken into.
You would not pronounce it "Andrewses," so you only add the apostrophe. Where you are talking about a surname that ends in "s" and you want it plural and possessive, make it plural first and then follow the rules on making it possessive.
The Joneses' house was for sale.
You make Jones plural by adding "es" because it ends in "s," but adding apostrophe and "s" after that would make it difficult to pronounce (Joneseses) so you just add the apostrophe.

Again, the main thing to remember is not to change the basic spelling of a person's name. Start with their name spelled correctly, and then figure out how to make it plural and/or possessive.
Hopefully this is helpful. Don't upset a person by misspelling their name. Possessives and plurals aren't difficult if you think about the base word you are trying to change.
Image credit: <a href='http://www.123rf.com/photo_10709367_smith-name-in-phone-book.html'>bradcalkins / 123RF Stock Photo</a>