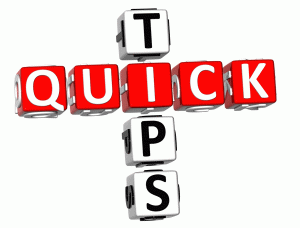 Here is a compilation of tidbits that didn't quite warrant their own blog post, but are interesting enough to share.
Is it wreck havoc or wreak havoc? According to the online Merriam-Webster Dictionary, wreck means "a vehicle, airplane, etc., that has been badly damaged or destroyed; a ruined or destroyed ship; an accident in which a car, airplane, train, etc., is badly damaged or destroyed." On the other hand, wreak means "to cause (something very harmful or damaging)" and "bring about, cause <wreak havoc>." So the correct phrase is to wreak havoc.
Personal pronouns like myself, himself, herself, etc. can ONLY be used in certain circumstances:

to reflect back to the subject – I found myself craving a nap on my day off.
to emphasize a noun or a pronoun that has already been expressed – The secretaries themselves did all the work for the buffet.
Do NOT use a compound personal pronoun unless the noun or pronoun to which it refers is in the same sentence.

The reservations are for the Smiths and myself. (There is nothing for myself to refer back to here, so it should say "the Smiths and me.")
John and myself can meet on Tuesday. (It should be "John and I can meet on Tuesday.")

Family terms using the prefix great or the suffix in-law should always be hyphenated. However, terms involving step or grand are kept solid.

My great-grandmother lived in Arkansas.
John's son-in-law wanted to move his family to Alaska.
I love being a grandmother.
Sara's stepchildren are a blessing in her life.
Pretty quick, huh? I hope you learned a little something. Remember to email any topics you would like to see covered to proofthatblog@gmail.com!