We all know that word processing software comes with many useful features. There is a danger, however, in depending too much on the software. Here are some examples:
Spell check. As I've mentioned before, spell check absolutely has its uses, but is not the only (or necessarily the best) proofreading method. One example I've given before is "doe snot" instead of "does not." They are both spelled correctly, but one is definitely not correct. Do not rely exclusively on spell check.
Grammar check. This feature is useful for catching some issues, but cannot possibly be accurate with every grammar resource, so be careful not to just accept all of the software's "advice."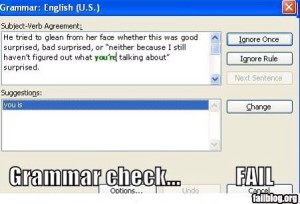 Search and replace. While this certainly has its place in searching and replacing something like a misspelled name, you must be very careful using global search and replace. Think about the danger–say you wanted to search for the word "plain" and replace it with the word "normal." The issue appears where other words might contain the search term. For instance, in this case, if your document included the word "plaintiff," the global search and replace would change that word to "normaltiff." While entertaining, that is obviously not correct. If you want to use search and replace, you should review the suggested replacements before they are made.
These suggestions may not make your writing easier, but it should help you be more accurate from the beginning of the process.